If you're dreaming of a nautical themed wedding or if you're a sailor, these stylish custom wedding invitations are for you.
Navy Nautical Sketch Anchor Wedding Invitation
Tie the knot with this navy nautical sketch anchor wedding invitation. Customize the background and font.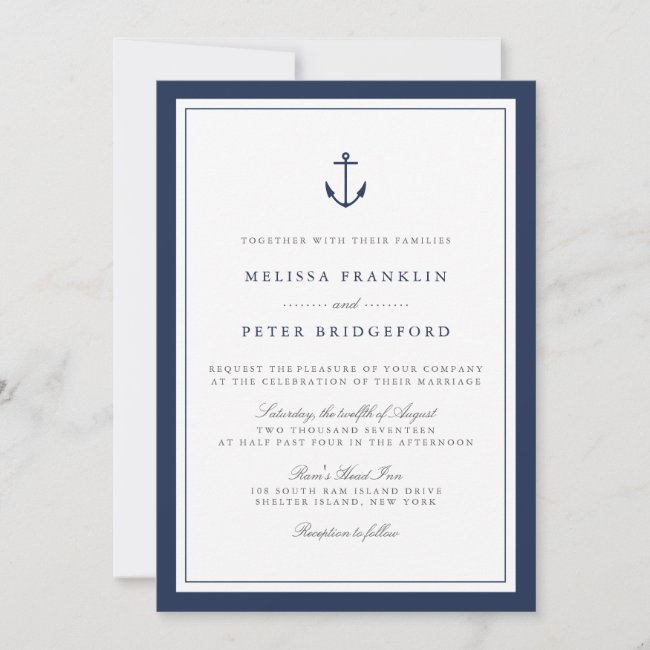 Nautical Navy & White Wedding Invitation | Anchor
Our elegant wedding invitations feature classic nautical styling with a clean, minimalist look. Design features a double border of rich navy blue with a ship's anchor illustration at the top. Elegant block and script lettering in soft gray and matching navy blue completes the look. Perfect for yacht club, boat, beachside or summer weddings.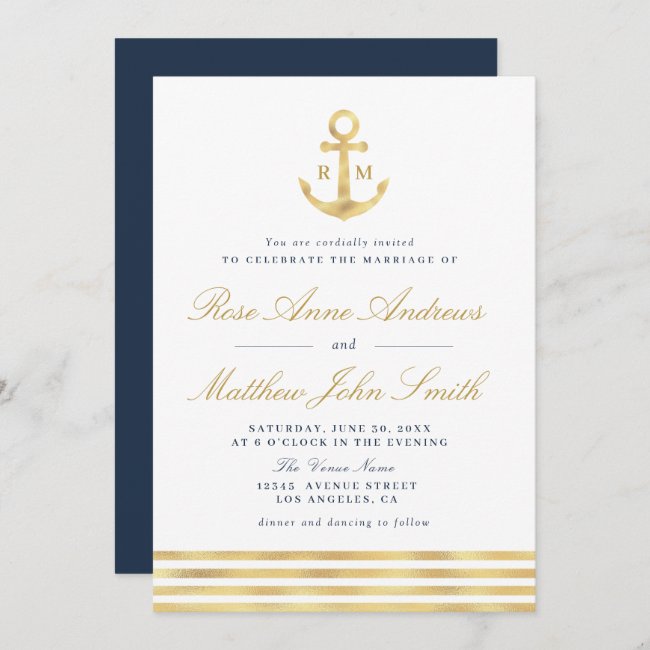 Love by the sea gold anchor nautical navy wedding invitation
Modern meets nautical in this design with a touch of golden elegance. A lovely faux gold anchor and stripes adorn the top and bottom while complimenting the text and navy blue back. The perfect invitation to celebrate your marriage by the sea. The template features can be customized to your own unique requirements.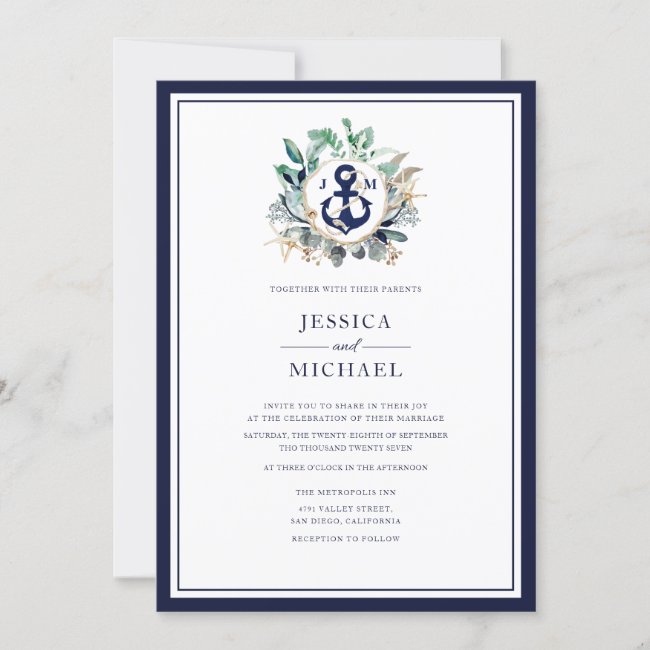 Nautical Rustic Watercolor Navy Anchor Wedding Invitation
Rustic beach wedding design combining nautical elements (navy anchor, knot, starfish) with unique and original watercolor wreath of eucalyptus leaves and greenery. Bride's and Groom's monograms. Navy lettering. Ideal for beach wedding, nautical wedding, destination wedding, summer wedding.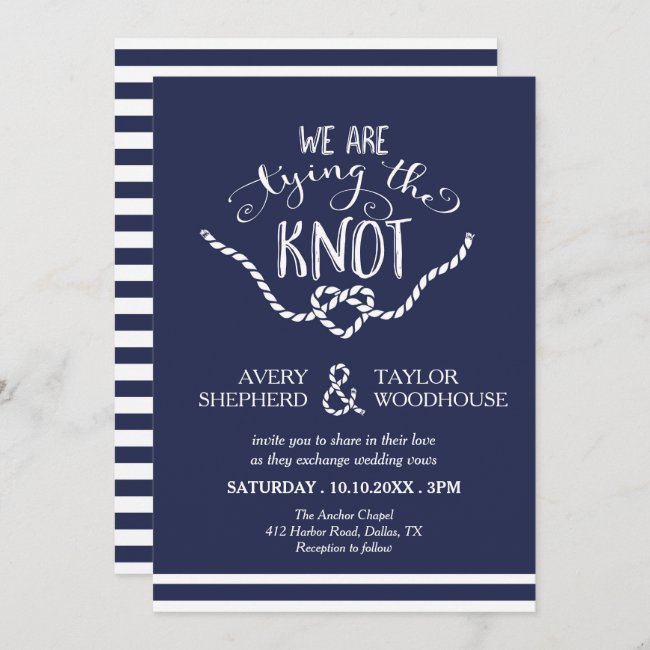 Tying the Knot Calligraphy Wedding Invitation
We are tying the knot! A trendy and fun version of the classic nautical wedding design in navy blue with white text and details, like a heart-shaped knot.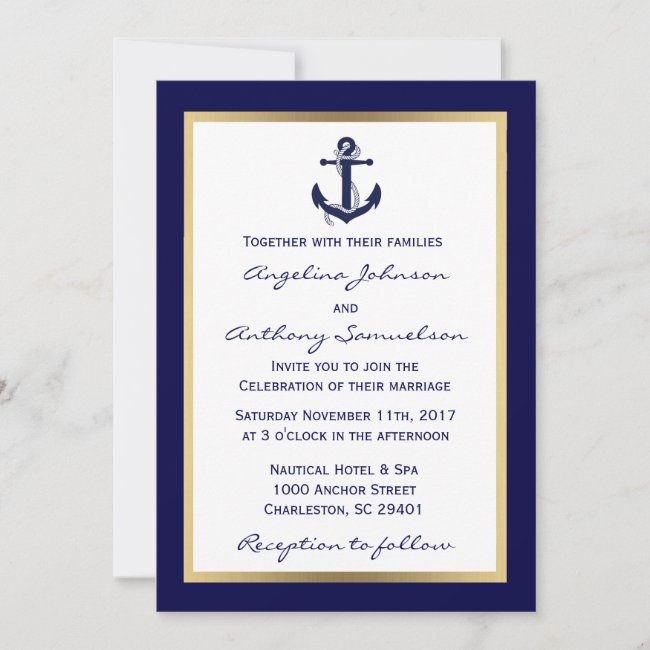 Elegant Custom Navy Blue Nautical Wedding Invites
How elegant are these nautical navy blue and white wedding invitations cards. Anchor with gold foil frame adds that extra touch of class. Personalized wedding templates so you can add/edit with your own information. Get all matching wedding supplies in 'NAUTICAL' wedding collection.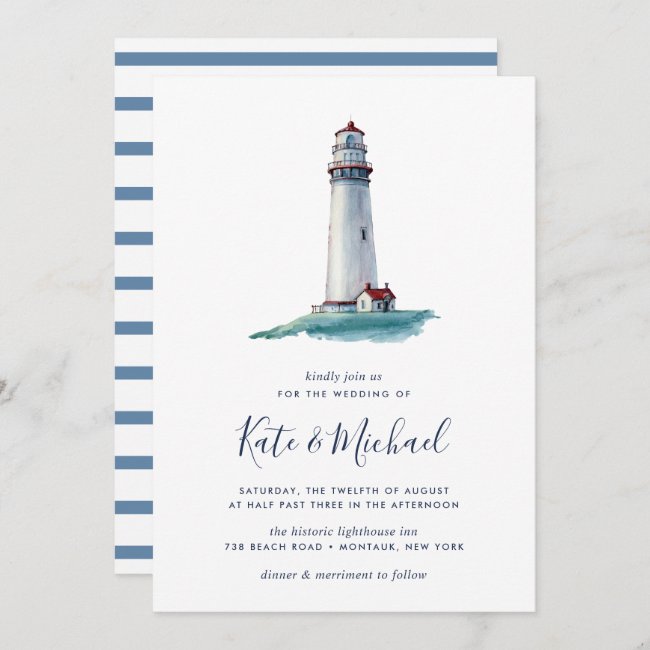 Landmark | Wedding Invitation
Elegant coastal wedding invitations feature a watercolor illustration of a lighthouse in navy, red, and white on a teal sea, topping your wedding details in chic nautical navy blue lettering.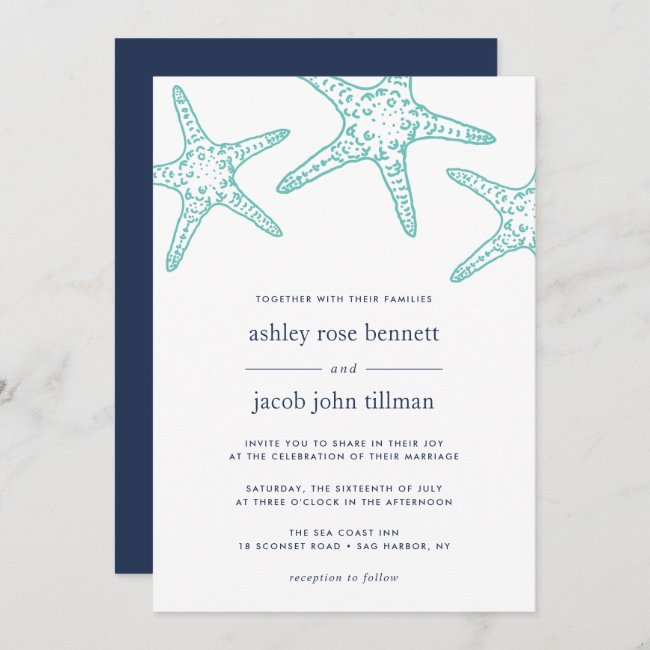 Turquoise & Navy Starfish Wedding Invitation
Modern coastal wedding invitation design features three vintage style turquoise aqua starfish illustrations at the top, framing your wedding details in a chic mix of classic serif and modern sans serif typography. An elegant wedding invitation design in vibrant mint and navy for nautical, summer, or beach weddings.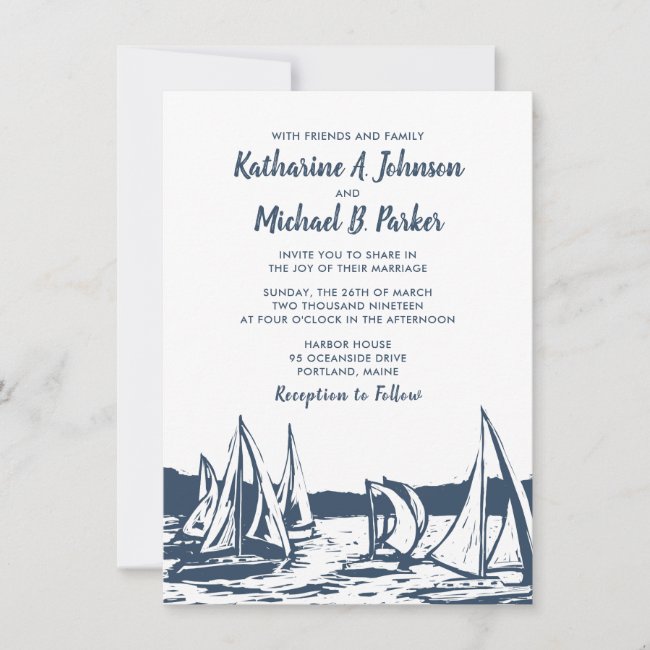 Nautical Sailboat Wedding Invitation
For couples getting married by the ocean or on the lake, this Nautical Sailboat Wedding Invitation is an elegant choice. This sailboat design was created by New Hampshire based artist Katharine Woodman-Maynard in her woodcut style.